The following posters are available to free of charge to BCFSC members. Please email us the requested quantity and shipping information.
Please note: The BCFSC is a not-for-profit organization funded by the BC forestry industry. These items are free of charge to BC forestry operations. Companies outside of forestry or out-of-province can download the printable pdfs and print at their own expense. BCFSC can ship non-industry and out-of-province pre-printed requests for a fee. Payments may be made via credit card over the phone.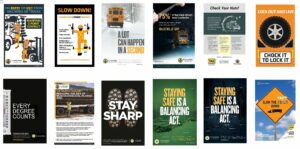 Scroll down to access downloadable resources
---
DISCLAIMER: Information contained in the audit support documents do not provide the sole method to correctly address work-related risks. These support documents are meant to help develop your company's safety management system but they may not identify ALL appropriate and necessary requirements or actions for various situations. It does not reduce or replace users' responsibilities under applicable legislation. Individual organizations (companies/employers) are responsible to ensure application of suitable processes and practices. The information provided is subject to change based on updated government requirements and regulations. Every effort has been made to ensure the reliability of the information herein and to avoid errors and omissions.