Why a MAG-SAFE Audit?
In order to achieve continuous improvement in safety performance, MAG members decided a dedicated audit tool for BC sawmills was required with emphasis on risks specific to this sector to improve safety performance.
The MAG-SAFE Audit Program was rolled out in 2019. It was piloted at three sawmills in Q3-Q4, 2018 with positive experiences all round. This audit tool will effectively and efficiently measure sawmill safety performance particularly in high risk areas. It is fully aligned with WorkSafeBC's high risk strategy.
MAG-SAFE Presentation for On-Site Implementation
This downloadable presentation will help MAG member companies communicate the changes with the audit program throughout their organizations:
Audit Tool Format
The MAG-SAFE audit tool is an Excel format developed with auto scoring, graphs and statistics as well as multiple outputs best suited to diverse end-user needs such as management, operations, safety officers, supervisors, JOHSC, etc.
The audit report consists of:
Two-page PDF Executive Summary for Management includes a "heat-map" that shows where the operation did well and where additional energy and resources are needed to further improve overall safety performance
A six-page PDF Summary plus Corrective Action Log (CAL) for Operations
100+ page PDF full report for Safety departments and auditors who want those details
Excel CAL for transfer to company's safety management systems for their own tracking
A full Excel report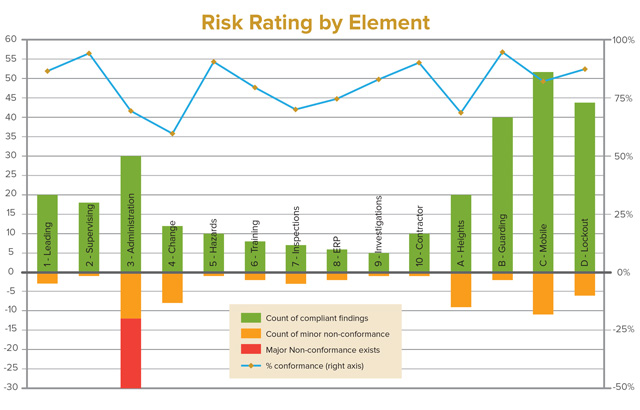 Support
To help with implementation and ongoing requirements of the MAG-SAFE audit program, BCFSC hired Bill Laturnus in January, 2019 as a Senior Safety Advisor, Manufacturing. Bill was instrumental in helping MAG develop and pilot the new audit tool.
For more information, contact us.