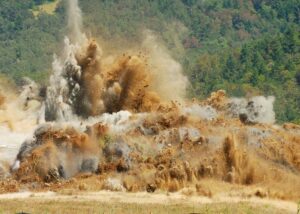 The following information and links will help forestry road blasters access information and resources that will help them work safely and effectively.
Regulation Updates
WorkSafeBC has conducted a review of the Occupational Health and Safety Regulation Part 21 – Blasting and updates to the regulation have been completed. Changes to include a requirement for ongoing training for all certified blasters and a formal training requirement for new blasters prior to certification. Click this link to view the current blasting regulation.
Training
The following is a list of blasting training modules to help forestry blasters meet their training requirements.
BC Forest Safety Council: Online Training Module 1 – Blasting Hazards and Safety – Click here to access the training. If you don't already have a username and password, click on the Create New Account button on the Learning Centre log in screen to self register.
Other Training Options: Online Training – The International Society of Explosives Experts (ISEE).
Western Canadian Branch of the ISEE offers regular conferences and in-person training sessions.   
NEW – ISEE Conference is in Kamloops, Sept. 22-24, 2022. Click here for more information.
Incident Reports
Hazard Alerts from the Ministry of Mines and Energy provides important blasting safety information including safety alerts and incident reports.
Resources
Scroll down to download BCFSC blasting resources.