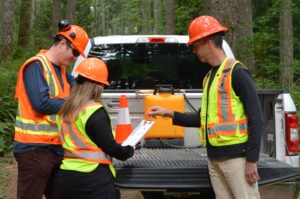 Good supervisors are always learning. BCFSC has supervisor training, resources and videos that will help improve supervisory skills.
If you are new to supervising, begin with some basic training courses and build up your knowledge base with the supervisor videos and resources.
---
Training:
Forest Supervisor Training – three in-person courses:
Due Diligence
Communication
Leadership and Professionalism
Wood Products Manufacturing Supervisor Training – six free online training modules.
Prime Contractor Webinar Recording – A supervisor may be acting as a Prime Contractor or reporting to them. This webinar explains how it works.
Phase Congestion – Free online training to help supervisors manage forestry worksites when workers and equipment are working too close together.
Serious Incident and Fatality Investigation – Free online training relating to a supervisor's role and responsibilities when a serious incident occurs.
Wildfire Fire Leadership Development Program – A great program benefiting all forestry supervisors not just wildfire fighters.
WorkSafeBC's Supervising for Safety – Free online training for supervisors from all industries.
---
Videos:
Falling Supervisor Videos – Good information for all forestry supervisors, includes ERP, communication and planning best practices.
---
Other Opportunities:
Vancouver Island Safety Conference – This conference is held in Nanaimo annually each fall. It is free and an excellent opportunity to network with other supervisors and learn from industry presenters and subject matter experts.
Silviculture Supervisor Assessment Checklist – This is a great tool for all supervisors. Do a self assessment to see if you have any gaps in your knowledge, skills or attributes.