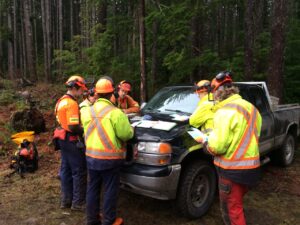 Good supervisors are always learning. Have a look below for training, resources and videos that will help you improve your supervisory skills.
New to supervising? This is a great place to start! Begin with some basic training courses and then build up your knowledge base with the videos and resources.
Training:
Forest Supervisor Training – 3 in-person courses: Due Diligence, Communication, Leadership and Professionalism
Wood Products Manufacturing Supervisor Training – 6 free, online training modules.
Wildfire Fire Leadership Development Program – A great program that has benefits for all supervisors not just fire fighters.
WorkSafeBC's Supervising for Safety – Free online training for supervisors from all industries.
Prime Contractor Webinar – A supervisor may be acting as a Prime Contractor or reporting to them. Watch this webinar to learn how to do it well.
Phase Congestion – Free online training that will help supervisors manage when workers and equipment are too close together on forestry work sites.
Serious Incident and Fatality Investigation – Free online training on a supervisor's role and responsibilities when serious incidents occur.
Videos:
Falling Supervisor Videos – Good information for all forestry supervisors, includes ERP, communication and planning best practices.
Risk Tolerance with Dave Fennell
Switchback Training with Ken Falk
Leading to Safety – It's All About the Heart with Craig Sexton
Safety Results with Alan Quilley – Part 1
Safety Results with Alan Quilley – Part 2
Leadership with Yvonne Thompson
Characteristics of a Good Supervisor
Other Opportunities:
Vancouver Island Safety Conference – Network with other supervisors and learn from top notch presenters.
Silviculture Supervisor Assessment Checklist – This is a great tool for all supervisors. Do a self assessment to see if you have any gaps in your knowledge, skills or attributes.