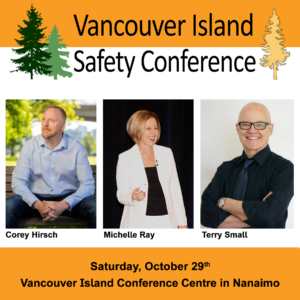 Saturday, October 29th, at the Vancouver Island Conference Centre in Nanaimo, BC
After two years hiatus due to the pandemic, this free conference is back with forestry-related safety topics focussing around this year's theme – Lead the Way | Resiliency, Opportunity, Engagement.
This full-day, in-person conference includes refreshments and lunch for conference attendees and features a variety of speakers as well as a trade show with targeted safety products and services.
This year's keynotes speakers include former NHL goaltender, Corey Hirsch, leadership expert Hall of Fame speaker, Michelle Ray and "Brain-guy" Terry Small, master teacher and Canada's leading learning skills specialist.
Register online today to save your spot.
If you have questions regarding registration or sponsorship, contact the VISC steering committee by email training@bcforestsafe.org or call 1-877-741-1060.