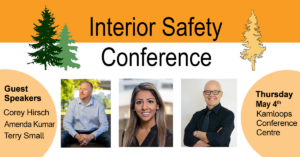 The Interior Safety Conference, an annual industry-driven safety conference specific to the BC forest sector, is returning on Thursday, May4th in Kamloops as part of the Interior Logging Association Conference.
After two years hiatus due to the pandemic, this FREE, in-person conference is back with forestry-related safety topics focussing around this year's theme – Lead From Where You Are.
INTERIOR SAFETY CONFERENCE
Date:         Thursday, May 4, 2023
Time:         9:00am – 4:00pm (Registration opens at 8:00am)
Location:  Coast Kamloops Hotel & Conference Centre | 1250 Rogers Way, Kamloops BC
The full-day, in-person conference includes refreshments and lunch for conference attendees and features a variety of speakers, industry experts and relevant safety information to help you and your company keep safety at the forefront of your daily operations. There is also a trade show with targeted safety products and services which will be held at the Powwow Grounds located at 100-345 Powwow Trail in Kamloops BC.
This year's keynote speakers include former NHL goaltender and mental health advocate, Corey Hirsch, mental health expert, Amenda Kumar from WorkSafeBC and "the Brain Guy" Terry Small, master teacher and Canada's leading learning skills specialist.
The Save of My Life: My Journey Out of the Dark: Come and hear Corey Hirsch's captivating presentation on his personal journey battling debilitating mental health struggles.
Mental Health in the Workplace: Learn how to identify and manage mental health in the workplace with valuable tools and resources presented by therapist and WorkSafeBC OHS consultant Amenda Kumar.
Healthy Brain Resilient Mind – 5 Steps to a Calmer, Happier, Sharper You!: Get an in-depth look from Terry Small, Canada's leading learning skills specialist, into how our brains function and what we need to do to keep them healthy and resilient in the current state of the world.
Online registration – Spaces are limited so register online today to save your spot. Registration deadline is April 20th, 2023.
If you have questions regarding registration or sponsorship, contact the ISC Coordinator by email tcarruthers@bcforestsafe.org or call 1-877-741-1060.